Abstract algebra II (Math 128B), Spring 2011 Duncan Hall 243, MW noon-1:15pm (Sec. 01, code 23471) Last update of this page: August 15, 2011
Announcements:
Final exam, Fri May 20, 9:45am-noon.

Schedule for the rest of the semester:

Wed May 11: Outline for PS11 due. (See revised and corrected version here.)
Mon May 16: PS11 due; last chance to revise PS09-10; partial answers for PS09-10 given out.
Tue May 17: Graded PS11's available for pickup from 10am-2pm, MH419.
Wed May 18: Final exam review, 4-5:15pm, room TBA. Last chance to revise PS11; partial answers for PS11 given out.
Fri May 20: Final exam, 9:45-noon, our usual room.

If you'd like to do some review/self-study on methods of proof, see this handout on writing proofs. You might also try looking at Reading, Writing, and Proving, by Daepp and Gorkin.
Administrative handouts:
Course greensheet, Information sheet.
Course notes:
Course mechanics: Homework in Math 128B, Writing proofs.

Pictures of the Galois correspondence (click to download):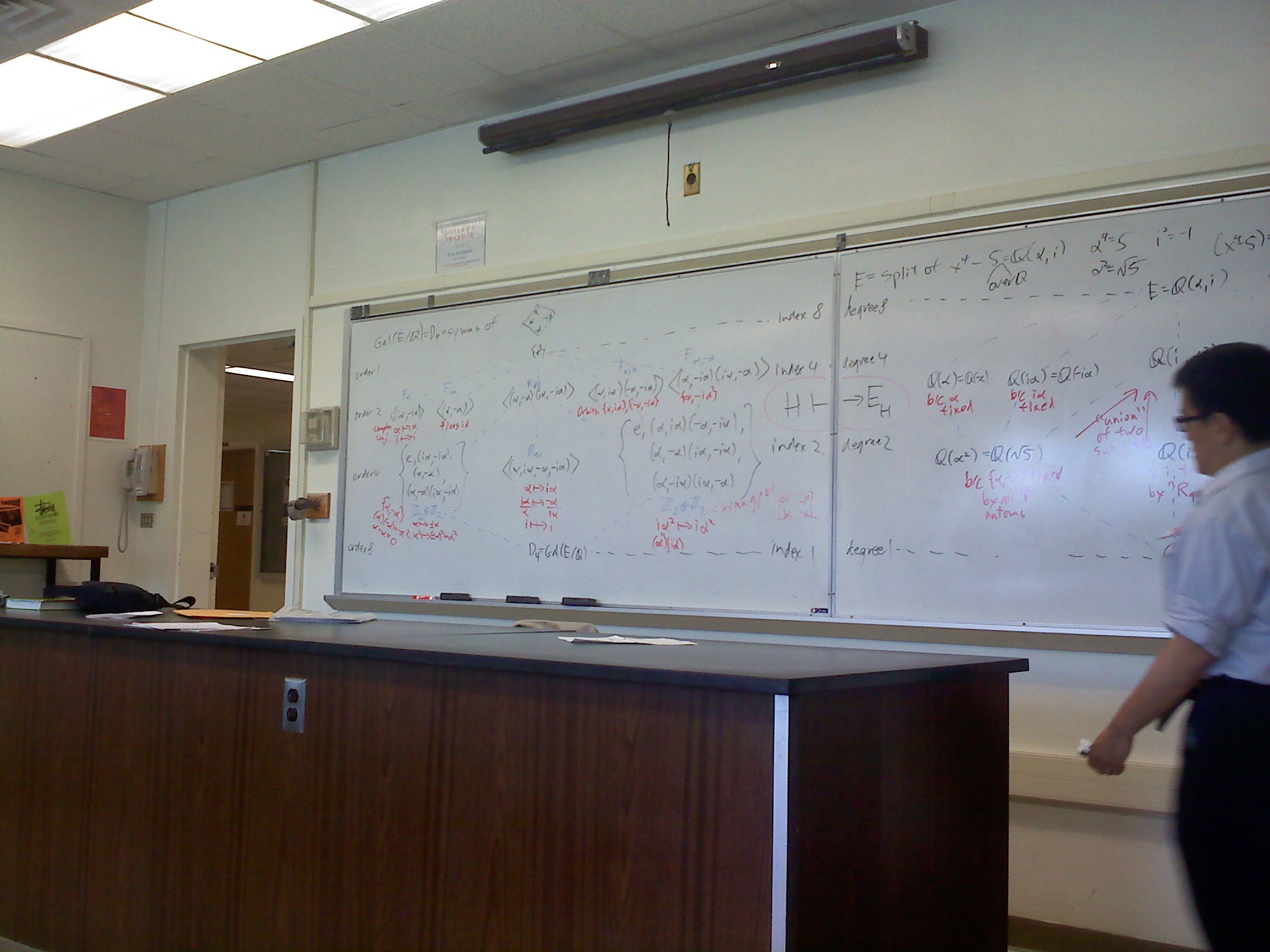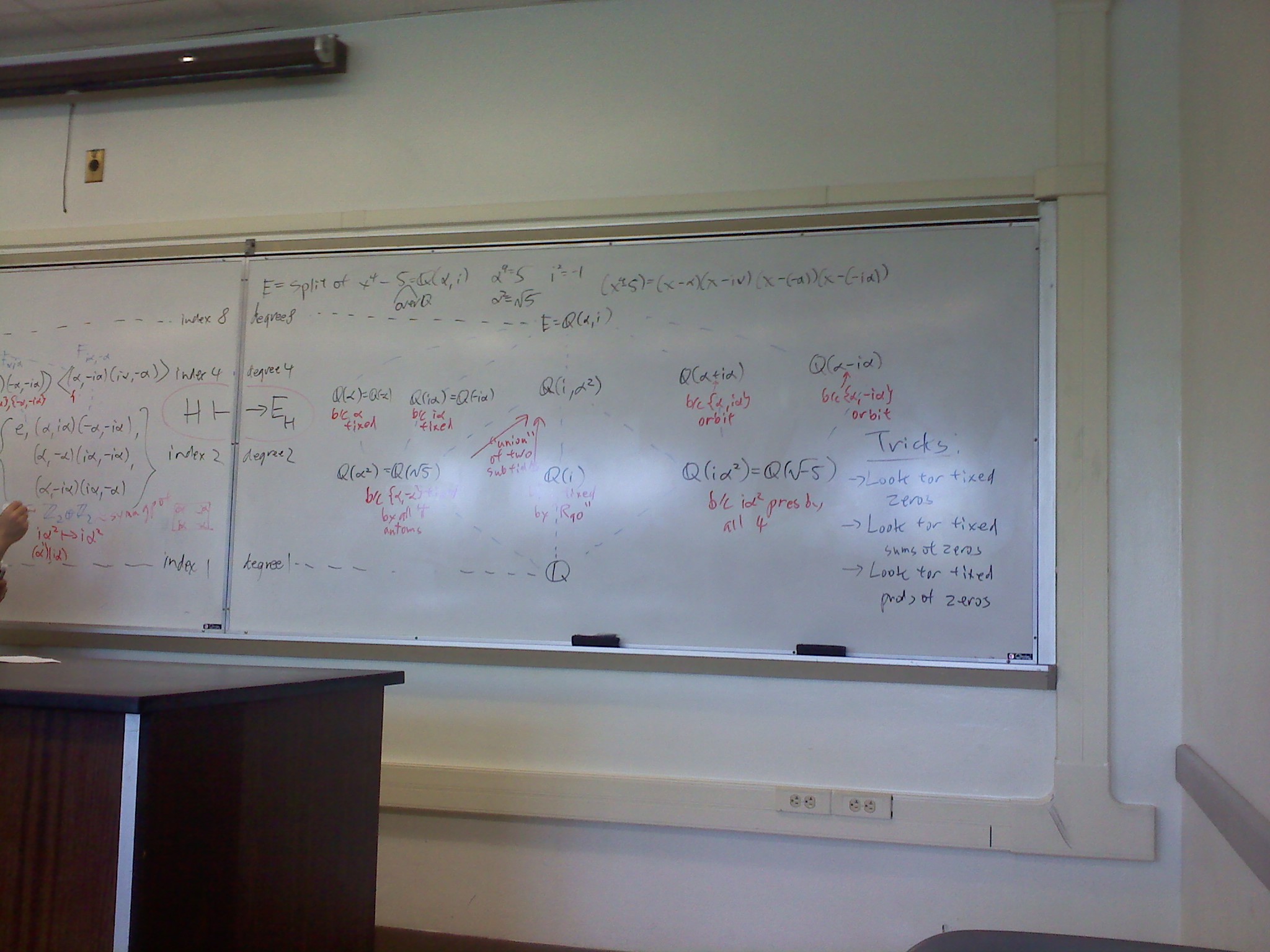 Thanks to Mike Petrillo for those pictures!
Course content: Axioms for groups and rings, Notes on group actions, The fundamental theorem of Galois theory.
Also, check out Gallian's website, with links to useful things like online flash cards for definitions (hard copy version).
Topics for exams:
Exam 1, Exam 2, Exam 3, Final exam.
Sample exams:
Final from 128A.
Problem sets:
Click on the number or "See handout" of any highlighted problem set to download it. (Files are in PDF format, which can be read by the free Adobe Acrobat program.)
Reading assigned in course:
Contemporary Abstract Algebra, Gallian: Chapters 12-14, 15-18, 19, 20 (through p. 364 only), 21-23, 24, Notes on group actions, 32, The fundamental theorem of Galois theory. (Review: Chapters 0-11.)

Proof handout: Parts I-II.
Other useful links:
If you're interested in typesetting math, the system I use to make my handouts is called LaTeX. If you have a Windows PC, you can download LaTeX for free at http://www.miktex.org; you will also need a good text editor, like the shareware program WinEdt. PCTeX also makes a good commercial version; student prices are $150 for the "Publisher" version, which I recommend if you have the money, $50 for the "Writer" version, which I recommend if you don't. If you own a Mac, you can download a complete system called TeXShop for free. If you own a Linux computer, you already own a copy of this program, as it's been a standard Unix program for about 20 years.

LaTeX is well worth learning, if you have some free time; it's used for manuals and technical reports throughout nerd-dom. For self-study, I highly recommend Learning LaTeX (Griffiths and Higham) for beginners, and the LaTeX book by Leslie Lamport as a reference.

Free downloads: Adobe Acrobat (for reading .pdf files)
---
Instructor: Tim Hsu.
Required text: Contemporary Abstract Algebra, Gallian, 7th ed.
Optional text: Writing Proofs, Hsu, downloadable here
Homework: Outline and final version due once each week, except in exam weeks. For details, see the handout on homework in Math 128A.
Exams: Three in-class 50-minute exams, plus 2 hour, 15 min final exam (Fri May 20, 9:45am-noon).
Grading: Final course grades consist of:


| | |
| --- | --- |
| Homework: | 20% |
| Exam 1: | 16% |
| Exams 2 & 3: | 17% each |
| Final: | 30% |